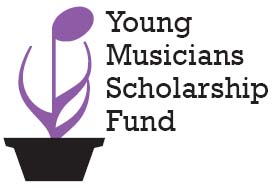 The TCMU Young Musicians Scholarship Fund provides a limited number of scholarships for students and young musicians to participate in a variety of opportunities to further their education and musical development. The fund has been active for many years. Many scholarship recipients go on to become professional musicians, and some make their way back to become members of TCMU.


GUIDELINES FOR APPLICANTS
Applicants for an award under the scholarship fund should meet the following criteria:
1. A full-time student at a public junior or high school, college, technical school, or university level, or full-time home schooled student.
2. Must be 22 years old or younger.
3. Is not currently an active professional musician, but showing skills and inclination to become one in the future.
4. Is an individual of extraordinary commitment and talent who has demonstrated financial need.
5. Is sponsored by a member of Local 30-73 who submits a letter of recommendation to the Board of Directors.
Scholarships are available for young musicians to attend summer music camps/schools. To apply submit a letter of recommendation from a member of Local 30-73 and a teacher, a resume of the young musician, and a copy of the letter of acceptance from the chosen music camp/school.
Scholarship applications are reviewed by the Board of the scholarship fund and awarded based on the guidelines outlined above.
The deadline for letters of application is normally May 15 each calendar year. Because the notice failed to go out this year (2021), the deadline has been extended to May 27, 2021.