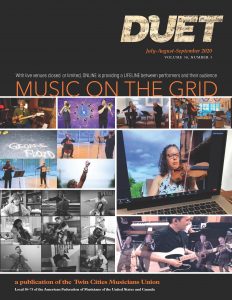 Greetings! A couple of things have happened (or not, depending on your perspective). 1. There have been no gigs! 2. Because there are no gigs, there are no work dues, so income is down, hence, we're trying to save some money by not publishing a full Duet, as you may have noticed. In light of that, the cover photo is a collage of things that have been happening. That photo is below, along with descriptions to identify the musicians.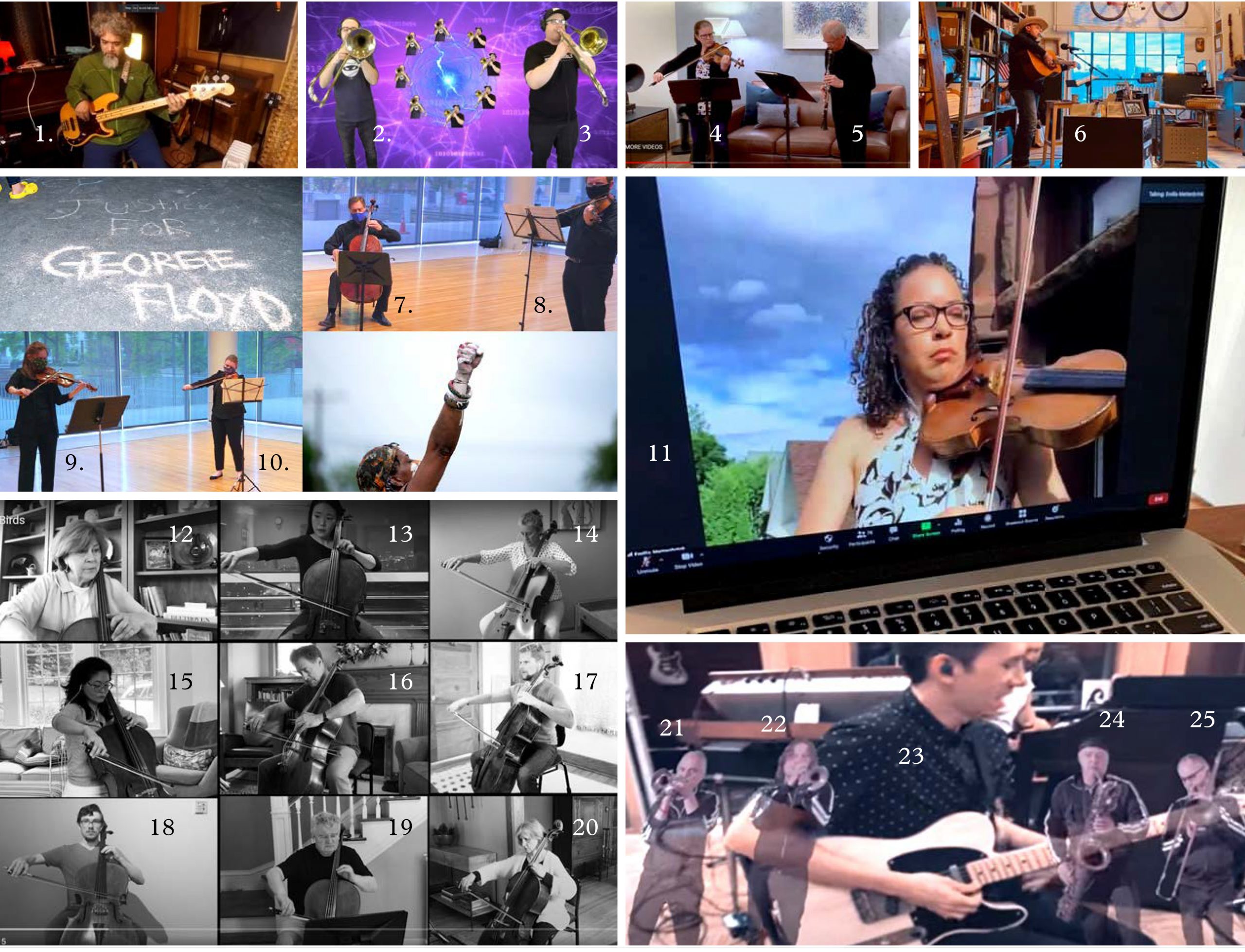 Here's a key to the TCMU musicians that are featured in this collage:
1, 2, 3: Jeff Bailey, Ben Busse, and Scott Agster in video for Scott's composition "The Multiple Man."
4, 5: Minnesota Orchestra at Home: Concertmaster Erin Keefe and Music Director Osmo Vänskä perform Sorrow, the second movement from a work composed by Osmo himself: Duo for Clarinet and Violin.
6. Charlie Maguire live-streaming a concert from his office and workspace.
7, 8, 9, 10: Minnesota Orchestra musicians Tony Ross, Sam Bergman, Felicity James, and Sarah Grimes performing a socially-distanced tribute, "Music of power and grief for a community in pain. Rest in power, George Floyd." They performed the Largo movement of Shostakovich String Quartet No. 8
11: Emilia Mettenbrink in one of a series of impromptu performances from the balcony of her home in St. Paul.
12–20: Minnesota Orchestra cellists in a composite performance video of "Song of the Birds," a Catalan folk song arranged by Silver Ainomaë, in honor of George Floyd and all victims of injustice.
12 Marcia Peck; 13 Minji Choi; 14 Katja Linfield; 15 Pitnarry Shin; 16 Anthony Ross; 17 Silver Ainomaë; 18 Erik Wheeler; 19 Arek Tesarczyk; 20 Beth Rapier.
21–25: Cory Wong video with the Hornheads. L-R: Steve Strand, Adam Meckler, Cory Wong, Kenni Holmen, Michael B. Nelson.