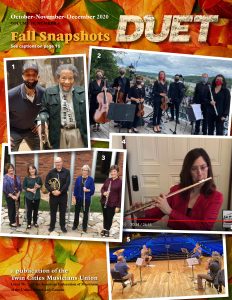 The image over there on the left is the cover of the DUET magazine published in October 2020. In the midst of a global pandemic our members are mostly idle, staying at home and remaining healthy. There are several creative ways that our members are making music during this extremely odd and frustrating time. The cover collage shows a few of them. Take a look below to see these images and descriptions of what is happening.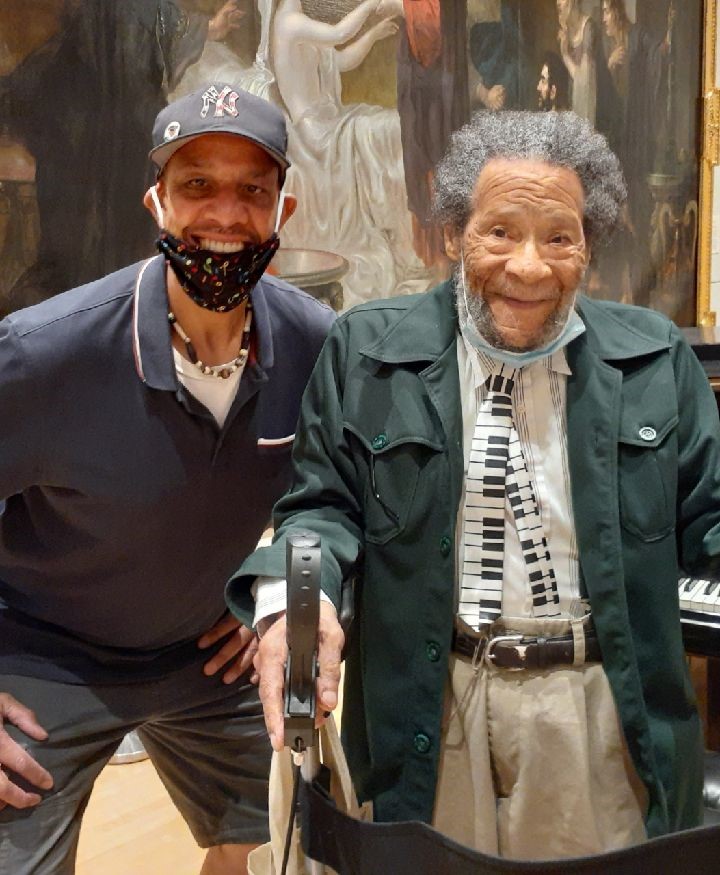 Daryl Boudreaux and James "Cornbread" Harris performed at Hennepin Avenue United Methodist Church on September 22.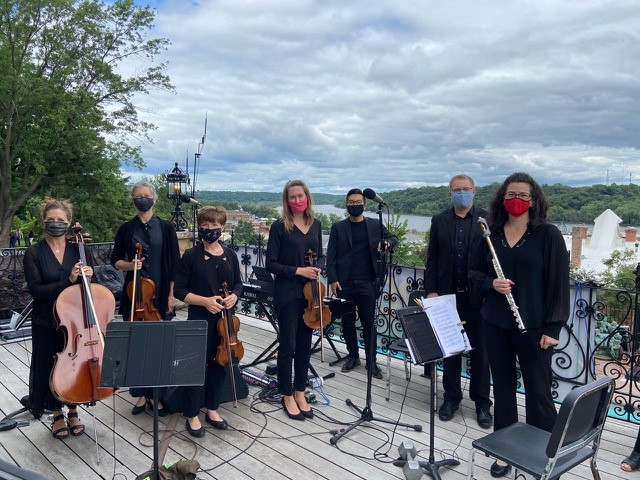 St. Croix Valley Opera musicians, L-R: Rebecca Arons, Susan Janda, Laurie Petruconis, Allison Ostrander, Andrew Sun, Nathan Cicero, and Catherine Ramirez (not pictured: Karrin Meffert-Nelson).

The Riverside Winds, L-R: Laurie Merz, bassoon; Jennifer Gerth, clarinet; Charles Hodgson, French horn;
Trudi Anderson, flute; and Merilee Klemp, oboe presented a concert of music by composers from all five Scandinavian countries on October 2. This concert was presented by the Edvard Grieg Society of MN in collaboration with the LEIF Eriksson International Festival as the kickoff for both the EGSMN's concert season and October events of the 2020 LEIF Fest.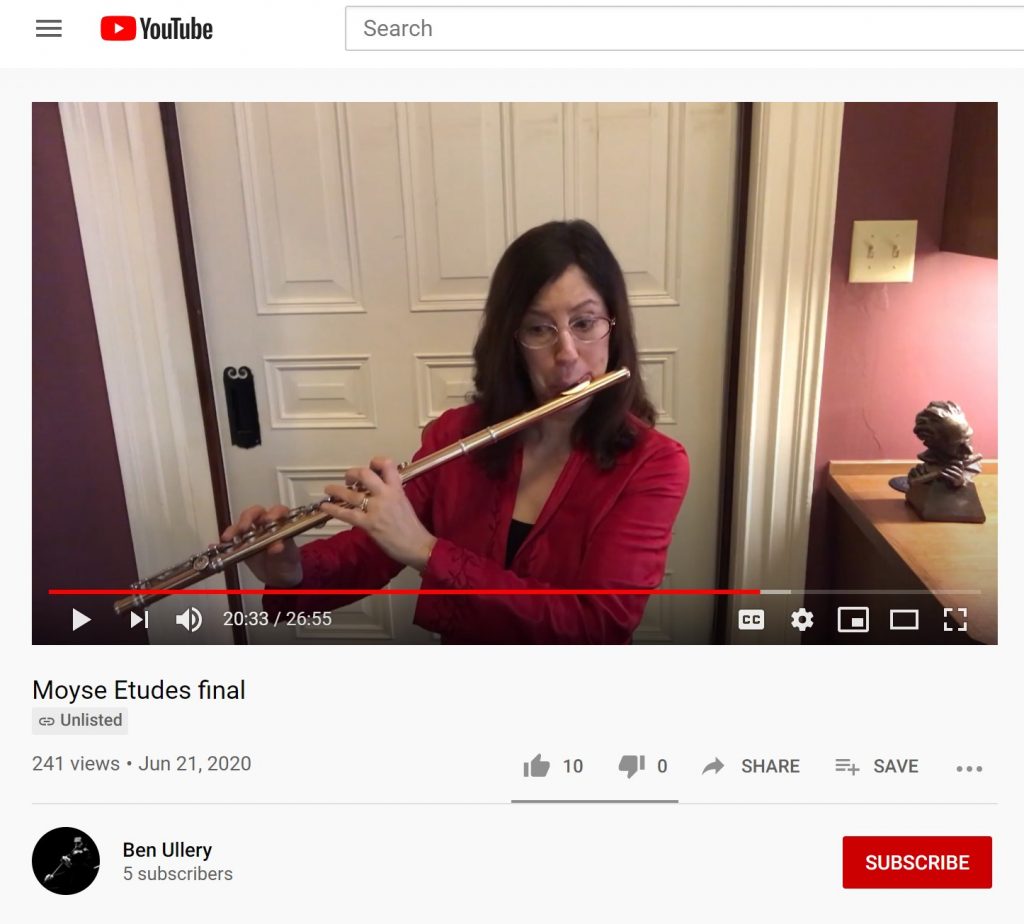 Julia Bogorad-Kogan, of the Saint Paul Chamber Orchestra, demonstrates and talks through some of Marcel Moyse's 24 Petites Etudes Melodiques as a way of illustrating basic concepts of musical language and showing how they can be applied to Mozart and to tonal music generally, from the baroque through the contemporary era. Julia is a marvelous player and teacher. Posted on YouTube by Upper Midwest Flute Association. Here is a link to watch: Julia Borograd-Kogan on YouTube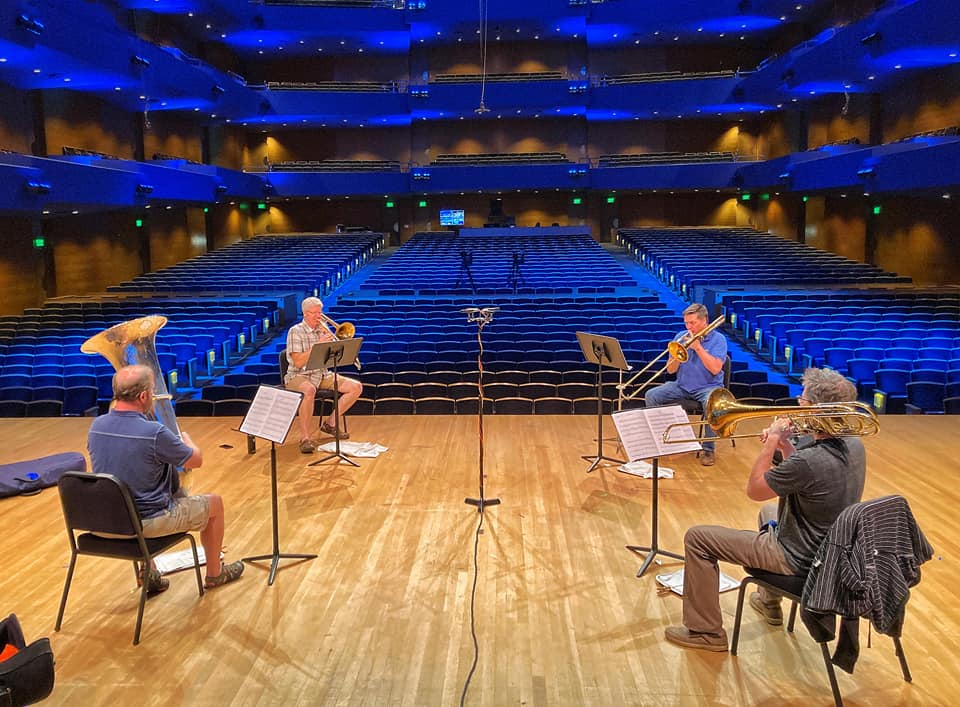 The Minnesota Orchestra low brass section rehearsing trombonist Kari Sundström's new composition, Four Portraits for Low Brass Quartet, which was premiered on a livestreamed concert from Orchestra Hall on September 12. L-R: Steven Campbell, Doug Wright, Kari Sundström, Andrew Chappell. Four Portraits is published by 415 Music (415-music.com)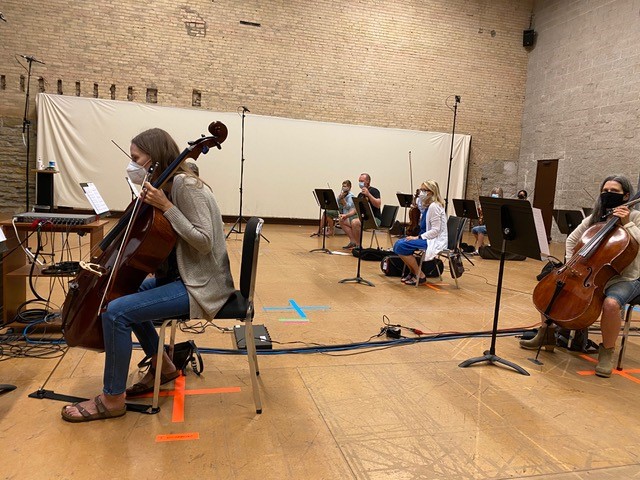 MN Opera String recording session, showing safe distancing, on August 25 (to be presented at MN Opera "Opera in the Outfield"). L-R: Teresa Richardson, Elise Parker, Colin McGuire, Julia Persitz, Melinda Marshall, Emilia Mettenbrink (barely visible), Kirsten Whitson. Winds and Brass/Perc. were each recorded on separate days. Photo by Rebecca Arons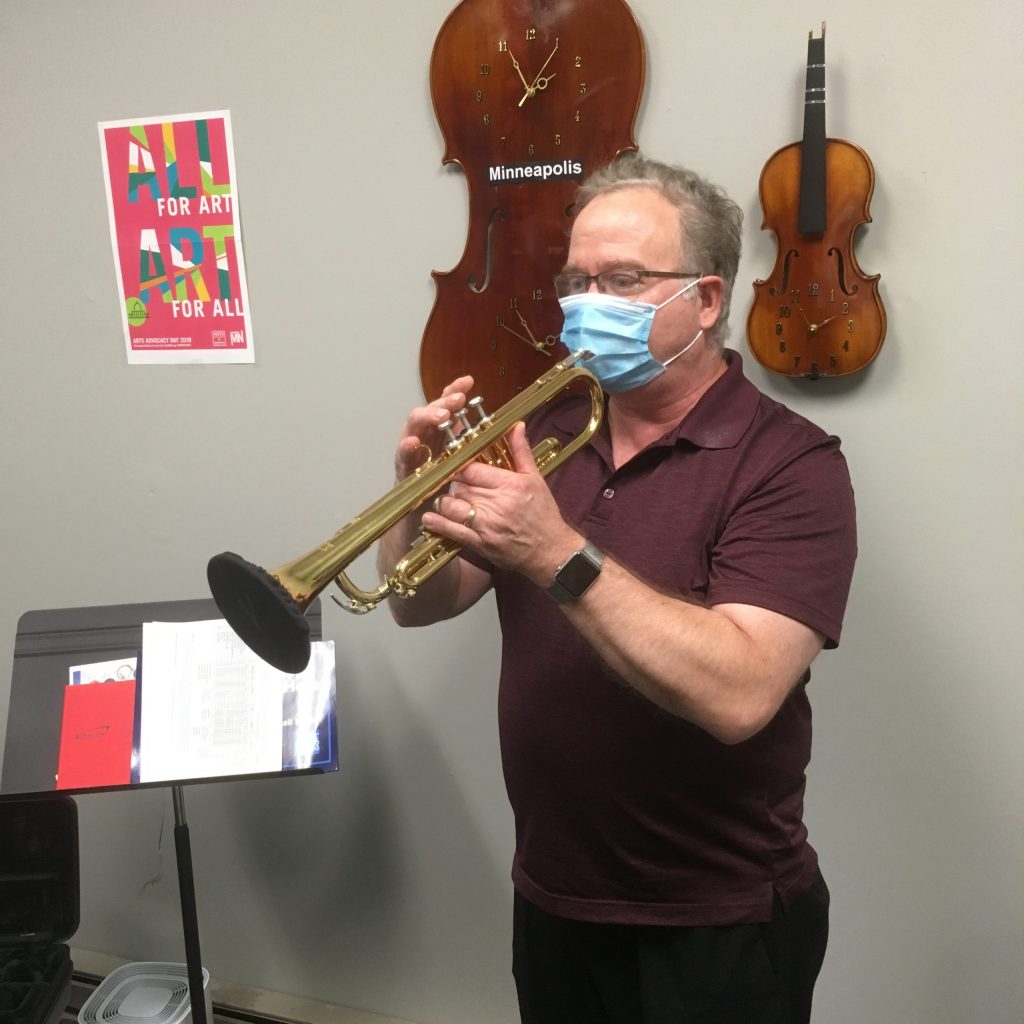 TCMU member (bassist and brass player) Al Hager, who is also the store manager at Groth Music, demonstrates a new line of brass bell covers developed by Steve Kriesel of Torpedo Bags, a Minneapolis-based manufacturer of brass gig bags and other accessories. Unlike many bell covers on the market made of stretchy material that does virtually nothing to block aerosols dispersed from a brass instrument, these multilayer covers are designed and tested to trap up to 75 percent of what comes out the bell. For more information, contact Groth Music or Torpedo Bags.
Links:
Groth Music
Torpedo Bags