Local 30-73 members turn up everywhere!
Here's what a few of them have been up to.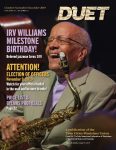 Images from
Oct-Dec 2019 Duet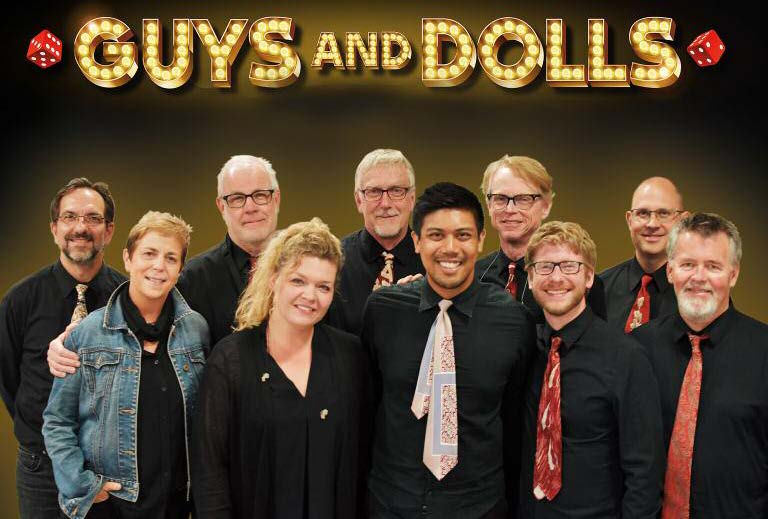 Guys and Dolls had a nice run at the Guthrie (June 22-August 25, 2019) and got excellent reviews — thanks in no small part (we'd like to think) to the crackerjack orchestra. l-r: Kory Andry (percussion), Elaine Burt (trumpet), Mark Henderson (Woodwinds), Elise Parker (Violin), Wade Clark (Trombone and Sackbut), J. Oconer Navarro (Music Director and Keyboard), Greg Angel (Bass), Jason Hansen (2nd keyboard), Bill Olson (Woodwinds), Bob Hallgrimson (Trumpet). No "Tinhorns" in this bunch!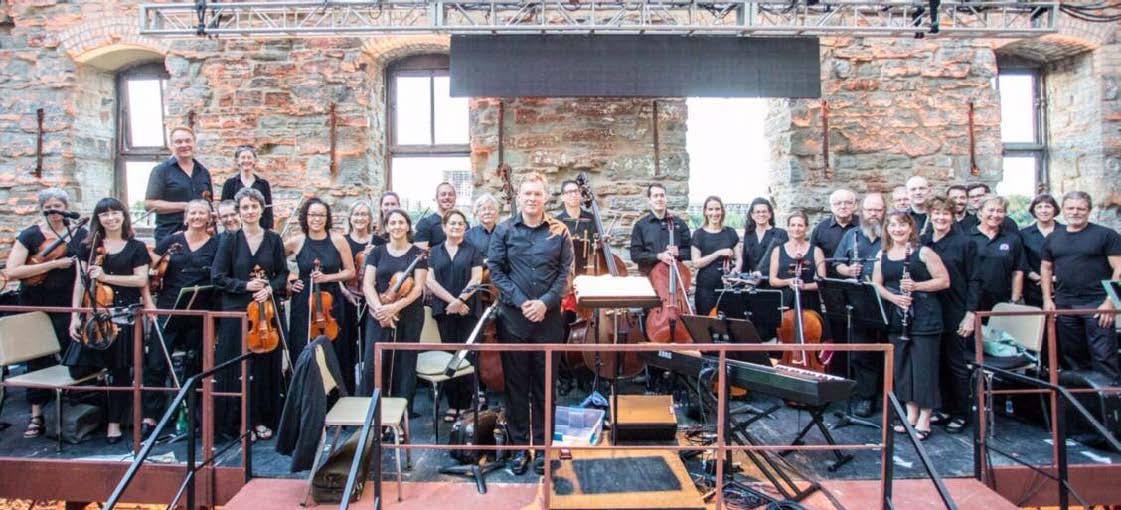 In July The Mill City Summer Opera presented Così Fan Tutte, a sophisticated comedy about the naiveté of love, considered to be one of Mozart's most "controversial" operas. nothing controversial about this fine orchestra, though. In fact, I drove by the mill City ruins not long after this picture was taken and saw that they had blown the roof right off the place!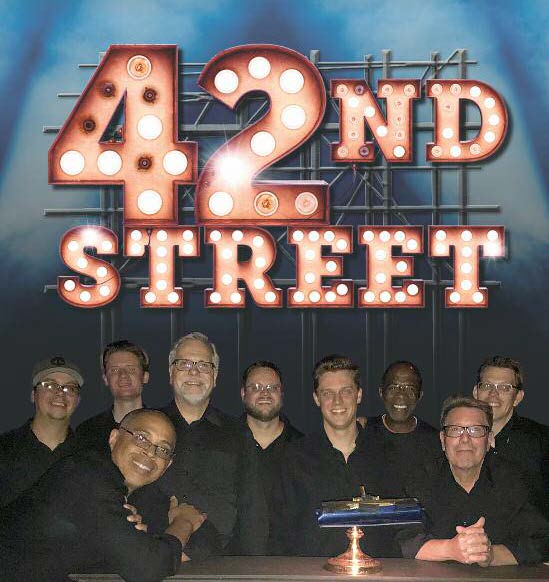 Hear the beat of dancing feet! A nine-piece live band provided onstage backing for the Ordway's production of 42nd Street, July 23-Aug. 11. l-r: Joey van Phillips (drum set), Geoff LeCrone (guitar), Sanford Moore (keyboard), Dave Graf (trombone), Adam Rossmiller (trumpet), Riley Helgeson (trumpet), Jay Young (elec. and upright bass), Raymond Berg (keyboard, music director, and contractor), Clay Pufahl (saxes and clarinet).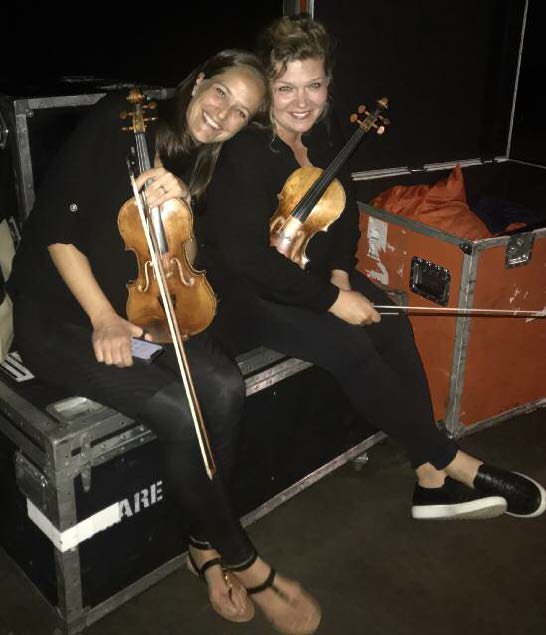 Maisie Block and Elise Parker backstage at the Xcel energy Center, part of a 50-piece local orchestra contracted by Rebecca Arons to back The Who on Sept. 6.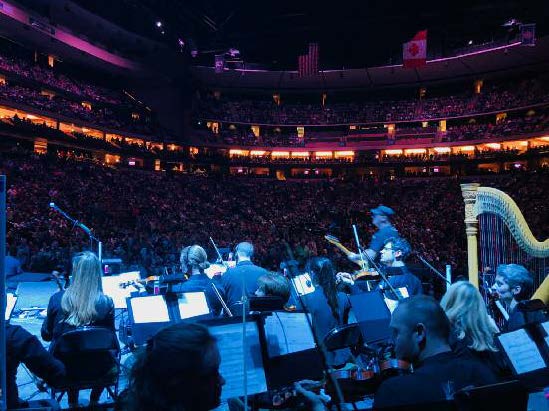 Local 30-73 members in The Who backup orchestra. (I believe the fellow with the electric guitar in the upper right photo is Pete Townsend.)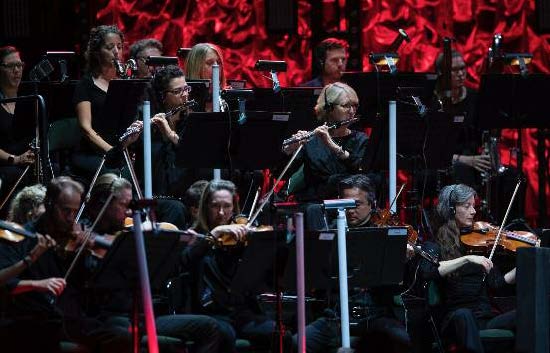 Photo of The Who Orchestra from the front of the stage.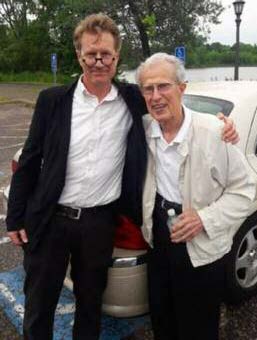 Life Members John and David Madson, father and son, mourned
John Madson, who played clarinet, alto, tenor and baritone saxophones for more than 80 years, passed away from natural causes on Monday, September 23, 2019. John joined the Minneapolis local in 1942 and earned his first steady gig with Cecil Golly at the Nicollet Hotel's Minnesota Room. He backed such national music acts as Liberace, Victor Borge and Rudy Vallee. John also played well-known Twin Cities ballrooms such as the Marigold and the Prom with Jules Herman. Later in John's music career he founded, directed, and arranged music for the Sun City West (Arizona) concert band, and played with the Richfield Concert Band, the Como Pops Ensemble, and several Shrine music groups including the "Flames." John was preceded in death just two days earlier by his son David, who passed away on Saturday, September 21, 2019. David joined the union in 1978 and reached life member status in 2017. An accomplished bassoonist, bassist, and tenor sax player, Dave played together often with his father, including many concerts with the Como Pops ensemble.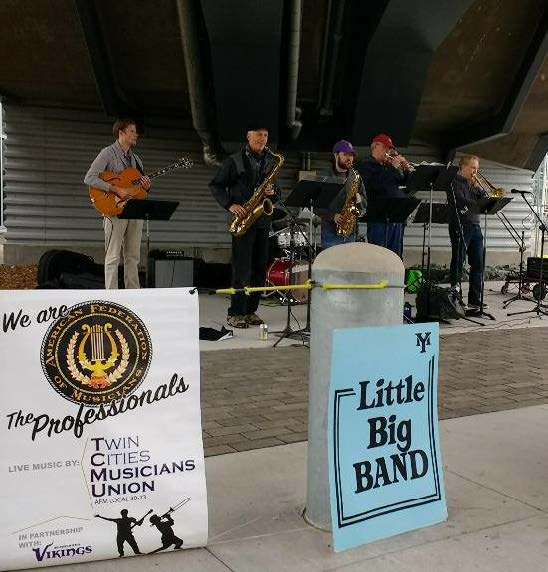 Mark Yannie led one of several bands kicking off the 2019-20 Vikings season on August 9. L-R: Geoff LeCrone (guitar), Mark Yannie (tenor sax), Brian Handeland (alto sax), Bill Simonsen (trumpet), Jeff Rinear (trombone). Back row (obscured) Tony Guscetti (drums), Bruce "Pooch" Heine (bass).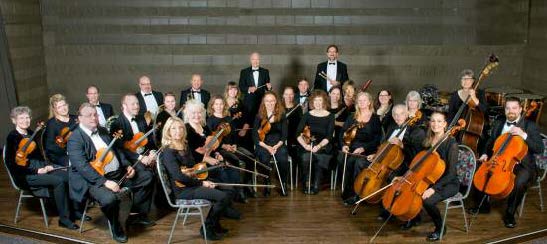 MN Sinfonia Celebrates 30 Years
The MN Sinfonia Orchestra celebrates its 30th anniversary with another series of free-admission Twin Cities concerts where, as always, children are welcomed and encouraged to attend. The 2019-20 Winter Concert Series is filled with extraordinary soloists and great masterworks such as Mozart's Symphony no. 41, Jupiter; Bach's Sinfonia opus 3 #3, and Bizet's Suite from l'Arlesienne. All concerts by the 27-member professional orchestra are performed at easily accessible neighborhood venues including the basilica of Saint Mary and Temple Israel in Minneapolis, also Metropolitan State University and First Covenant Church in East St. Paul.
Below: "It's lonely at the bottom." Paul Budde plays some really low warm up tones down in the basement of the infield of the State Fair Grandstand, where 41 of our members backed "Weird Al" Yankovic on Aug. 27.