Saxophone great Irv Williams, featured on the front cover of the previous issue of Duet on the occasion of his 100th birthday, passed away on December 14, 2019. Irv's passing was marked by stories and tributes in most of the Twin Cities news outlets, as befits a Minnesota music legend. The memorial pictured here was lovingly assembled by Irv's family at Willwerscheid Funeral Home in St. Paul, where a gathering was held on Dec. 20, 2019, attended by many musicians, friends, and fans.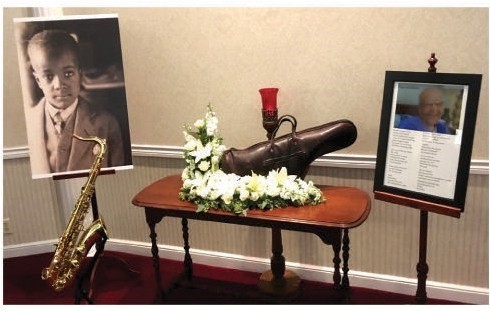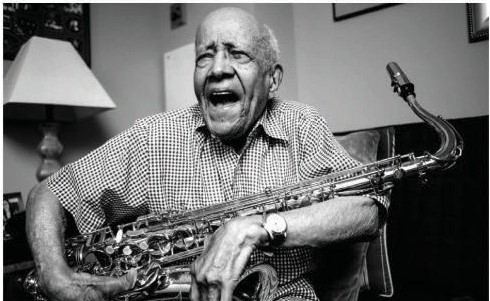 Photo credit: Nate Ryan, MPR
There were many fond reminiscences about Irv — as a player, friend, musical colleague, and mentor. Irv inspired and encouraged countless aspiring young jazz players over several generations, and was always generous in allowing them to sit in with his groups, helping them to hone their craft on the bandstand. Everyone at this gathering had a favorite Irv story.
At a 100th Birthday party held this past August at Episcopal Homes in St. Paul, where Irv had resided for the past several years, he treated the lucky attendees to a half dozen songs, in duo with bassists (and Local 30-73 members) Willard Peterson and Jeff Bailey. His sound and swing were still there, beautifully intact. The love in the room was palpable.
Irv Williams will be dearly missed by his many friends in this music community, as well as jazz fans in Twin Cities and beyond. His musical artistry, humor, and kindness touched many lives over the course of his long and distinguished performing career. His was a life well lived and well played.